A few days ago I thought I was amazing. I thought I had conquered my wet trunk, shown the Saab who's boss. I fixed the sunroof drain tubes in the trunk, and I WAS THE MAN. I think it heard me saying that to myself, because today I checked the trunk....soaked. Headliner and rear seats too, all wet. I decided to take the headliner out and find out what the problem was. Well, an hour later and I had the headliner off and sunroof taken out. Here's the problem:
Other angle view: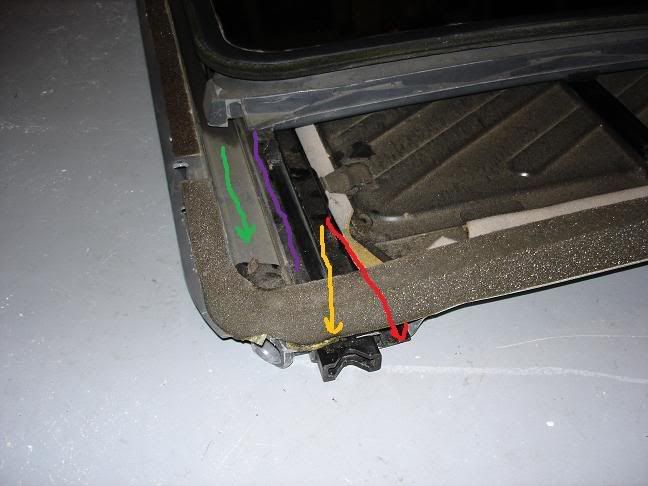 So far I couldn't think of any way to fix this other than 1. replacing sunroof gasket/seal thing 2. moving somewhere like texas. However, I read in another thread that the gasket cannot be replaced, so unless someone tells me some good news here, I'm whipping out the silicone sealant tomorrow.
edit: oops, forgot to explain the colors.
green = where water SHOULD go, off through the drain holes and tubes to the outside world.
purple = the divider, where water spills over during heavy rain. Also, since the gasket is in such bad shape, water sometimes falls on the wrong side of this even during light rain.
orange = water flows through, exits sunroof track holes into the headliner above rear seats
red = other exit water isn't supposed to go through