Discussion Starter
·
#1
·
Hi guys,
Dropped my wheels off yesterday evening to be refurbished, but the guy wants to know a colour for the centre (the lip is polished).
I've spent hours with google and all the Saab sites and I'm not coming up with anything positive.
I thought my wheels were original but comparing them with original images of the wheels mine look a bit silvery.
As far as I can establish, these are what they should look like:
From a brochure: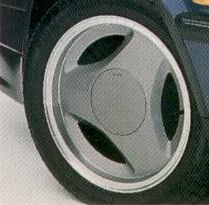 Old pic of Stuart on here's care (with fresh from a box wheels):
Now, my car is black, and that's what I'm after.
My wheels look like this:
...which seems a bit more silver.
It seems that quite a few people have had theirs refurbed a lot darker to match the Aero kit (Anthracite is the colour that keeps coming up, although there are a million topics on Aero kit colour saying Anthracite, Edwardian Grey, Odoardo Grey, and even paint code 281) but I'm not so keen:
Sorry Graeme!
But, what is the colour code?
I understand that "standard" silver wheels are Saab Silver (possibly paint code 247?) which is maybe what mine are, although they do contrast with the polished lip.
I thought the mid colour of the original wheels was Graphite Grey, but I can't find this colour in any Saab charts (only graphite green!), and the paint code I have seen for this is 176, which I have also seen listed as the code for Anthracite!
Anthracite has been mentioned as the darker colour for bodykits and listed as paint code 111 and 176 in various places.
The names and numbers seem to be interchangeable so I am afraid if I give either to the wheel refurb'er they'll come back the wrong colour
Does anybody have any idea what the colour is, or have any had theirs refurbed to look original and know what colour was used?
Please help! I need to try to get back to the guy this morning!