SOLD.
MP Performance 3" stainless steel downpipe: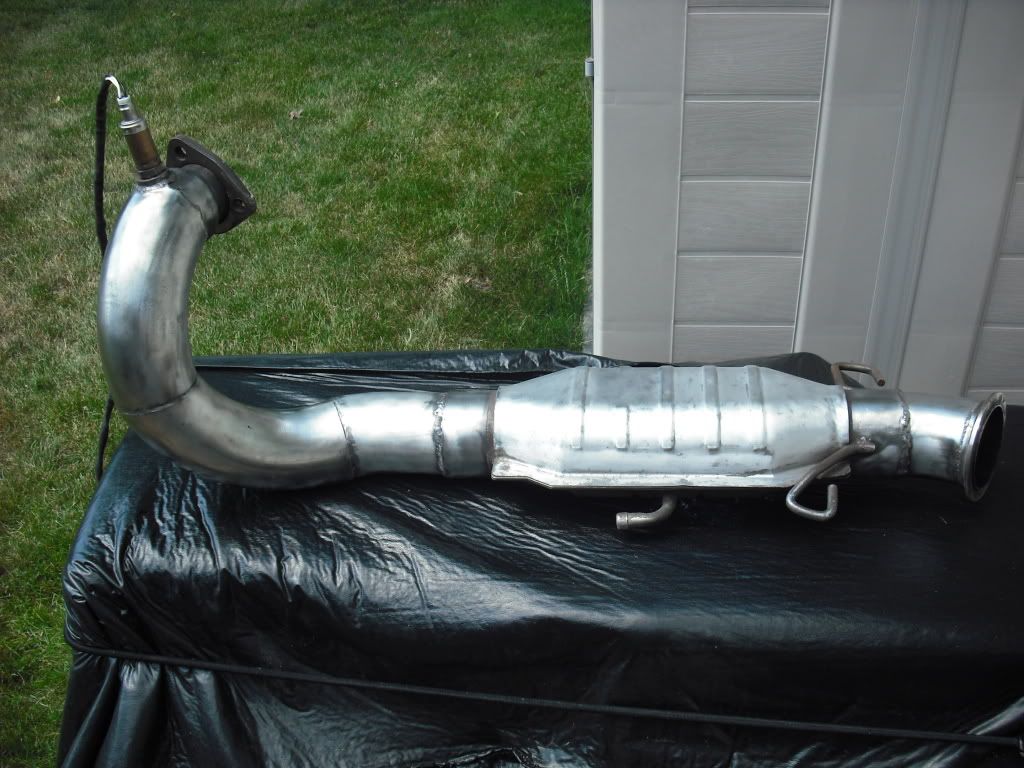 Note the end of the pipe after the cat. I cut off the reducer end and had a Vibrant Stainless steel v-band clamp tig welded on so that it would mate up to a 3" stainless exhaust without creating a bottleneck. The details of this operation are
here
. So whoever buys it should already have a 3" cat-back and be prepared to do a little welding to splice in a short section of 3" pipe and attach the mating half of a new Vibrant v-band clamp if you want to mount it as I did.
Selling it with the O2 sensor as shown. The sensor was replaced 5 years ago and the car was driven for a little under 2 years after that, before being garaged for a little over 3 years. The sensor is not a universal but is the correct Bosch part number for the NG 900. Accordingly, it has the correct connector to snap directly into your existing electrical connector.
Asking $150.00 plus shipping.
OK, a lot of people want to know if it will fit the OG9-3. I just don't know for sure.
Be advised, this down pipe will require some welding no matter what car you have, due to the after cat end as explained earlier in this post. As well, if you have a Mitsu TD04HL15 turbo (and you do if your car is the 205 stock hp HOT version of the 9-3, or if it is a Viggen), you may have to do something with the turbo end to make it fit, since the car it came from had a Garrett T25. I don't know that for certain, but it may be the case.
Also, because it came off a NG900 it has no O2 sensor bung after the cat because the NG900 was OBD1, not OBD2. Not a really big deal but that will require that you drill a hole and have a bung welded in after the cat. Finally, I do not know if the hangers are configured the same for the OG 9-3's so there be some modification required in that regard.