Discussion Starter
•
#1
•
I'm working on sorting out addressing issues in the rear suspension and am running into confusion when it comes to terminology. There seem to be about 5 different names for every part except maybe the subframe. The worst is that the WIS (at least the online version) appears to use a completely different terminology from parts places (esaab or eeuro). So, in the interest of simplicity I'm going to steal esaabparts' rear suspension diagram since all the parts are already numbered and start with their terminology: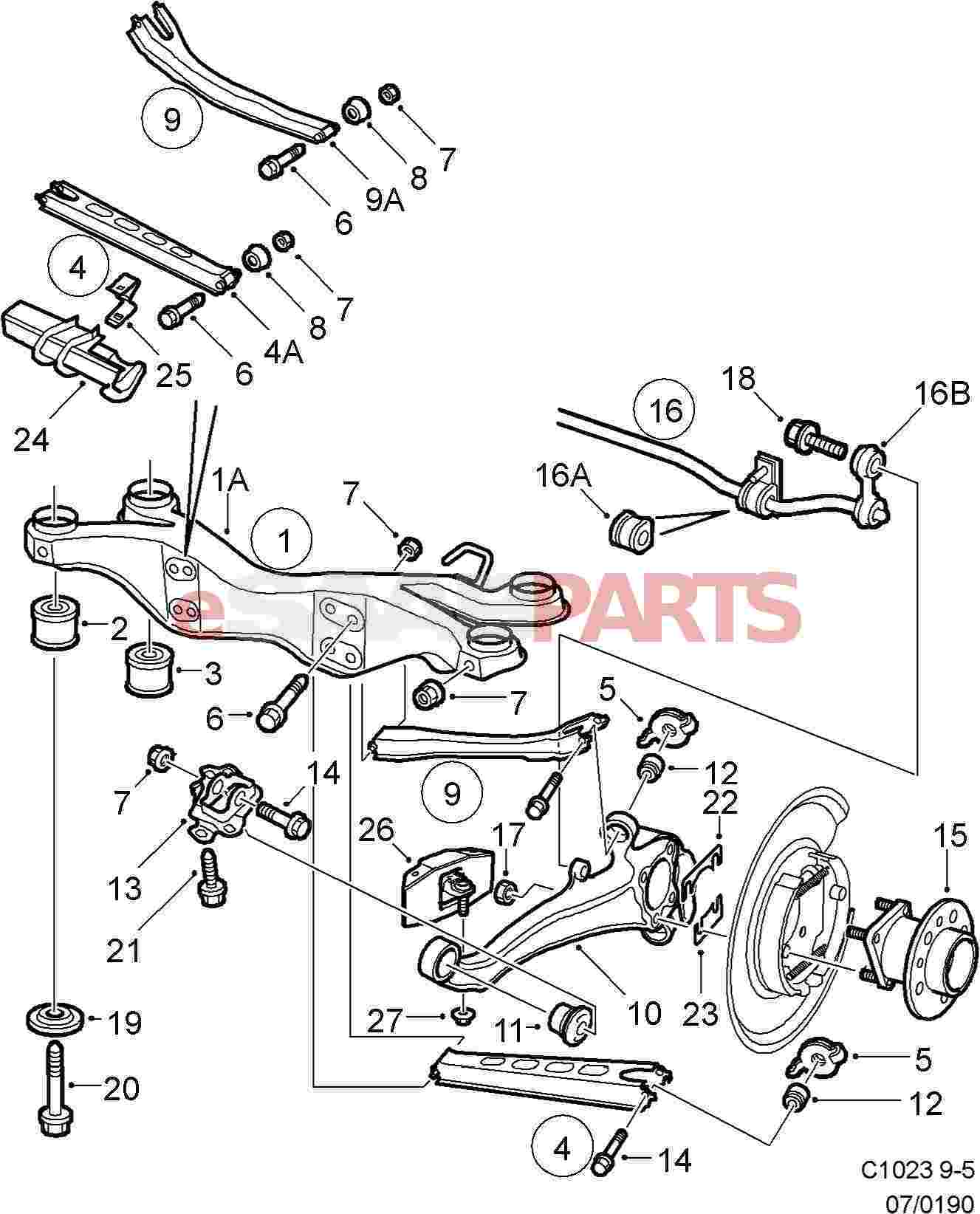 10: longitudinal link (esaab, wisonline), control arm (esaab)
11: front longitudinal link bushing (forum), "bushing" (esaab)
4: rear lower control arm (esaab), lateral arm (forum), lower transverse link? (wisonline)
9: cross stay (esaab), upper lateral arm (forum), upper transverse link? (wisonline)
12: bushing (esaab), rose bush? (forum), ????? (wisonline)
This started because I was trying to look at the WIS for how to remove/replace #12 after having been under the car on the lift earlier today and not being able to see them to visually inspect them for wear. The WIS has terms like "Ball joint, lower transverse link" as well as "Transverse link bush"; are either of those #12?
Sorry for being dense--I thought I understood things and then the WIS terminology confused me again.
FWIW, this is in a question to correct some rear camber issues and what I can only describe as "floatiness" during cornering. Current plan is to replace the #11 with the powerflex (inspection showed it dry-rotted) and at least the lower #12 on both sides. I was originally going to use spacers to correct ride height, but after taking measurements, the rear of my non-aero 2006 is sitting at right around 600mm on the left and 612mm on the right, with spec given at 620. I'm wondering if renewing these bushings might be enough to correct the negative camber.
Strangely, although the left rear ride height is lower, the alignment check I got today indicated the LR camber as -1.2deg, just 0.1deg out of spec range. OTOH, the RR camber measured by alignment is -2.0, almost a full degree off.