Discussion Starter
·
#1
·
Tools needed, axle stands, T45 torx bit, 18mm socket, allen keys, copper grease, wire brush, high temp paint and brush.
Jack car up, remove wheel and place axle stand underneath the vehicle. At this point your calipers/discs will look like this, rusty scored and generally nasty.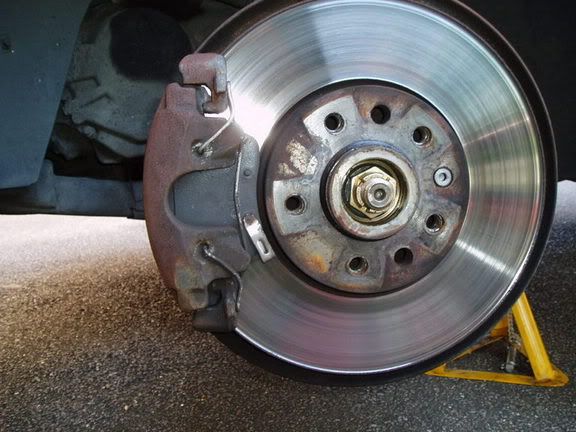 Lever off the retaining spring from the holes on the brake caliper, undo the T45 bolt on the rear of the brake assembly, prise off the dust caps from the inner ends of the caliper bolts, unscrew the caliper bolts and lift away
the caliper (suspend it by a cable tie from the suspension to prevent damage to the flexible brake hose). Remove the inner and outer pads from the caliper. Using the allen keys remove the one securing screw on the face of the old disc and remove disc. Wire brush the mounting surface of the hub ready to accept the new disc (this prevents brake run out).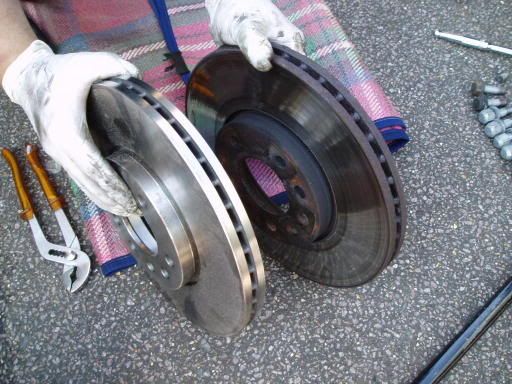 Comparison of old and new discs prior to fitting.
Thoroughly clean the new disc to remove the transit fluid used by the manfacturers to stop them rusting. Put some copper grease on the mounting hub prior to re-fitting the new disc.
Using the wire brush, remove all the rust from the caliper and use an engine degreaser to ensure thay are nice and clean. Push the piston back into the caliper before refitting onto the caliper carrier. Give the caliper a lick of high temp paint in a colour of your choice and allow 15 mins to dry.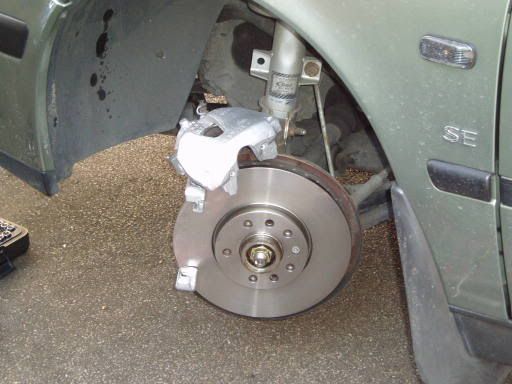 Caliper painted prior to bolting it back on the carrier.
Smear copper grease on the rear of the new brake pads, and fit the inner pad to the caliper ensuring the clip is correctly located in the caliper piston. Fit the outer pad to the caliper mounting bracket (the acoustic wear indicator must face downwards). Slide the caliper and inner pad into position over the outer pad, and locate in its mounting bracket. Insert the caliper bolts and tighten to 86 ft/lb torque, then replace the dust caps. Refit the retaining spring to the caliper ensuring the ends are located correctly in the caliper holes. Pump the brake pedal a few times to restore full brake pressure and you're done, stand back and admire the job you've done. (or Chris has done in my case)
The finished article..looks good, stops great..Brembo high carbon discs with EBC Redstuff pads. Thanks again to Chris for his spanner work, pictures taken by me.