Mörkstjärna - Breakin5Speed's 1987 900 Turbo Hatch
So I've finally caved in and decided to do a project thread, IronJoe can't have all the 87 Fun
I'll try to follow the basic format that many have laid out.
The Car:
The basic car is a pretty normal 1987 Saab 900 Turbo, that I bought from it's second owner for $1200, with a nice straight rust free body, but needing a minor bit of mechanical TLC. I purchased it when I was a Saab tech, with the intention to replace my previous 87 SPG that rusted out from underneath me.
The Goal:
No real goals, just a plaything, want something clean, fast, and fairly reliable, and not like every other VW I see floating around.
Power:
Current Mods-
(in order of pride)
Weber Throttle Body
85 Turbo Exhaust Cam
Mildly Ported and Polished Exhaust Manifold
Swedish Dynamics 2.5" Exhaust - "******* high flow catalytic converter"
T3/T4 Turbo: Water Cooled, 360 thrust bearing, stagger gap oil seals
2.1 Head (rebuilt by yours truly)
2.1 Intake
24 lb/hr Ford Motorsport injectors
3 bar fuel pressure regulator
Bell Engineering Rising Rate Fuel Pressure Regulator
Modified Stop on Vacuum Advance Diaphram on distributor - timing at about 18 degrees BTDC retards to about 11 degrees under boost
Custom front mount intercooler
Trunk mounted Optima Battery
Custom 3" Cold-er Air intake with Sebring Tuning open element air filter
Crankcase venting externally
900Aero.com APC Mod-more thorough of the two
IC sprayer using washer resevior and momentary push-button switch
Future Mods:
Definitely 3" exhaust, with Ultimate internal wastegate
Maybe Water Injection
Standalone engine management if/when I get to where this isn't my daily driver
Maybe Nitrous Oxide injection for the effect of charge cooling, but in the state of Maine Nitrous is basically illegal on a street car
Manual steering rack if I ever find one....
Driveline:
Rebuilt 4 speed with later aluminum pinion carrier, and 5 speed primaries (number 7s I think-car does 115 mph in 4th @ 4400 RPMs) bought from Saab Celeb Chip Lamb for $100, Resealed by yours truly filled with Amsoil Severe Duty 75w-90 Gear Lube
88-90 9000 Clutch with 9000 flywheel recessed .030"
With this setup and the T3/T4 car is pretty snappy in 1st and 2nd, but not overly torque-y, so traction is not an issue, car seems quicker this way and hopefully it is gentler on the trans, 3rd from 50mph to 100 mph is INSANE:evil:
Handling:
Basically right as I want it
205/55/15 88V BF Goodrich G-Force Sport tires (best tires I have ever owned)
Stock Swaybars
Intrax Springs in front
SPG Springs in rear
Bilstein Sport Shocks on all 4 corners (previously installed in my SPG, must have 200K Miles on them best shocks in the world IMHO)
Alignment:
Caster 1.3 both sides
Camber -.5 on LH -.9 on RH, helps on crowned roads in Maine
Toe .10 Toe In on both sides
Braking:
Old Skool Front handbrake FTW!
Ceramic Pads
Goodridge Braided Stainless Hoses
Custom Drilled Brembo Rotors
Appearance:
Exterior:
Before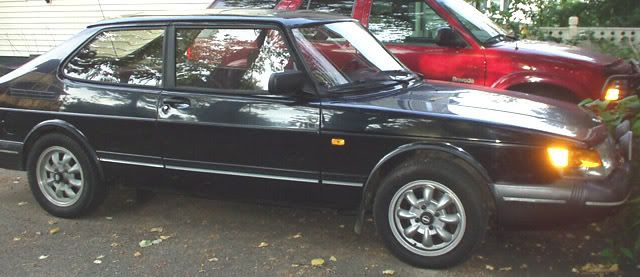 Currently
Blacked out lenses, blacked out grille, blacked out SAAB Minilite (not Shelby's) Rims
Interior:
Stock Tan cloth interior out of an 89 900s, had poorly installed Red Cloth interior with tan kneeboard and carpets when I got it
Black Headliner
Ebay Leather wheel on MOMO hub with Momo Saab Horn button
Black door cards
Manual windows
Custom Saab Shift knob
Old School'ed gauge cluster
VDO "Kok"pit Gauges and Autometer Narrowband Air Fuel ratio meter
Custom made leather shift boot, only cost me $10 from leather smith, in it's 3rd car
Custom shortened shifter