Discussion Starter
·
#1
·
Hey everyone,
I have a 1995 900SE Turbo conv. I was on my way to visit my mother and hit some pretty heavy traffic, didn't see a pothole and it gave a pretty good bottoming out. I continued down the road a bit (slowly because of traffic), and noticed a puff of white smoke from the passenger side-hood. I was at an offramp, so I managed to pull over in about 7 seconds or so, and turned off the car as fast as I could. I should also mention my temp gauge is kinda shotty- sometimes it reads normally, and sometimes it doesn't read at all. At this point it was reading about 1/2 way in between 0 and normal. No warning lights went off.
I popped the hood and the white smoke smelled sweet, and it looked like it was on top of the engine. Underneath the car there was a pool of what looked like antifreeze, however, the level in the reservoir was still pretty full. I could see a trail of liquid behind my car. At this point I thought it was just overheating, there were no apparent engine problems.
I got a tow across town to a shop near my house and left it overnight. The next day I came back to check levels again- still plenty of antifreeze. I checked the dip stick looking to see if any coolant leaked into the engine- to my surprise there was no oil at all! At this point I am starting to panic a little.
The pothole had knocked a 2" by 1.5" hole in my oil pan.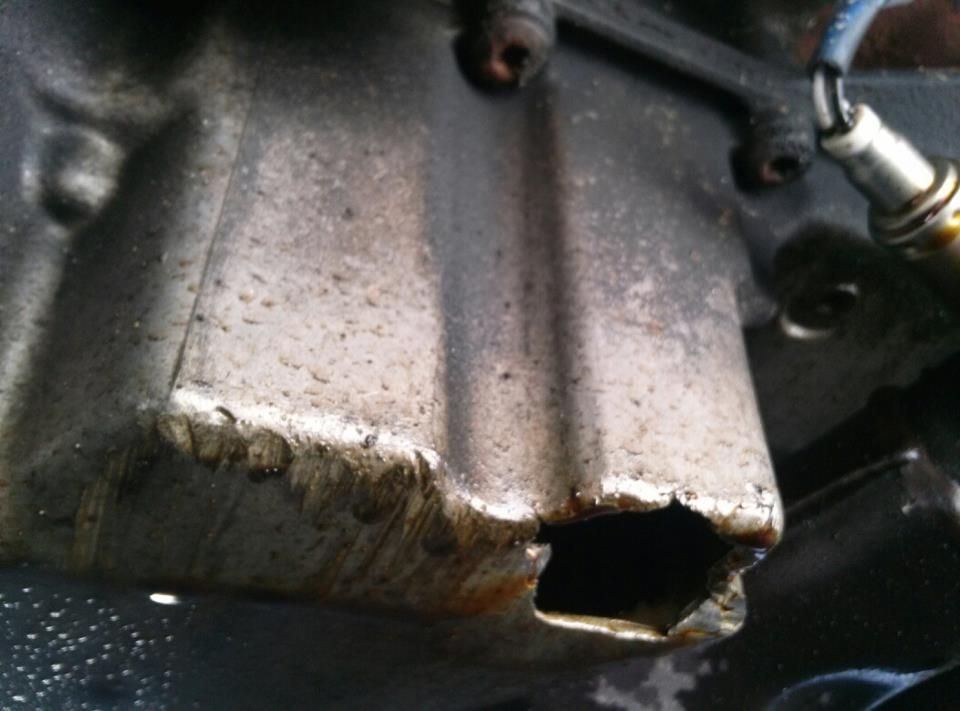 Again, no warning lights came on (oil pressure, check engine), but the engine did get hot enough to produce smoke. Where would the antifreeze come from?
I assume I could have a variety of problems, but I was hoping to get some advice on what to do next? The repair shop gave me a quote of $900 for the oil pan replacement. Given the size of the hole, this is probably a good option, but it just seems pretty costly not knowing whether or not the rest of the engine is still intact.
It wasn't covered by my insurance, but I am going to file a claim with VDOT- I just have to have someone drive me out to the spot so I can document it.
Any advice is greatly appreciated!
Noah