Discussion Starter
•
#1
•
One of the things that I wanted to put together was to be able to have a phone bracket easily visible from the driver side but while at the same time hidding all of the wires.
I had already taken power from the 12V plug in the front, so in the back side I thought I would change that just a little more.
Another issue that I was having is that I was using the 12V plug in the center console to charge my MP3 player and another mobile phone... I put 12V splitter in the console to charge both devices but by even just having 1 item plugged into that outlet, it took most space in the center console... Being that most devices I have (if not all) get charged with a USB charger... maybe, just maybe I can put some usb plugs???
Being that now there was going to be a whole lot more wires out there, I tried to make it as neat as I could, there was no much space there to work with.
But as you can see on the picture bellow, there is now an outlet behind the side panel on the passanger side.
Using the same splitter I used on the center console, I moved it and pluged it into the new 12V plug. I put a little bit of tape around the plug... just in case.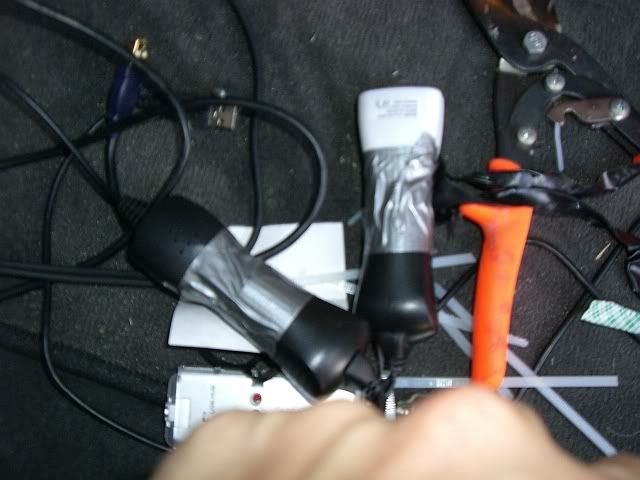 On the other side of the splitter, I put a 12V to USB adaptor, I found one with 2 drops on ebay for around $10, I am only using one of the drops but could use the second one in the furure
I already had a 1 meter (3 feet) wire that was available, so I used this cable to connect this small 4 port USB hub. It worked great and it takes almost no space.
From this picture on the side, you can see that the cables are not visible at all.
Here is how my phone looks, my phone also has the TomTom software installed, and the view is perfect from the driver side... you can adjust that arm in so many different ways.