I'm selling my current wheels because I'm not a fan of this style. I will be swapping the rubber to my new wheels, these are sold as bare wheels. I've seen these referred to as "3 Split Spoke" style, part number ALY68198. They are 17x7, 49mm offset, 5x110 lug pattern.
The wheels are in very good condition, with some minor curb rash on each. Most of the surface marks on them are simply dirt (or smudges from my quick cleaning job), and will be fully cleaned before sale.
I have included at least one picture of every wheel, including some closer pictures of the rash.
The wheels are 17" in diameter, 7" wide, with an offset of 49mm. The lug pattern is 5x110mm.
I am located in Vancouver, WA and would prefer to sell these locally (Portland included of course), but I can inquire into shipping if that's what is desired.
Wheel 1: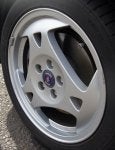 Wheel 2: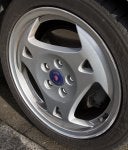 Wheel 3:
Wheel 4: