Now I have a new 'to me' 2.1 sedan which is about to go on the road after some months sorting out stuff, I've been thinking about the antenna.
For all the nice things about prestige cars, power antennas have always been a 'hate' of mine. Even in our Saab's. They are noisy, fugly, and a place for water to get in where it shouldn't.
When I had my red 89 hatchback until 2011, I'd fitted a fixed antenna to it to replace the power one. No problems. No water leakage issues.
Given that I tend to use a USB stick more for music when driving and hardly ever listen to AM or FM radio, I'm considering either deleting the power antenna altogether and plugging off the hole (to make it look discrete) or possibly trying to work out a new fixed antenna solution.
Has anyone done anything like this recently? The fixed antenna I tracked down for the old (RIP since 2011) 3 door hatchback was a good quality one but I don't recall any details.
Are there any small 'sharkfin' type antennas that are consistent with the look of a c900? Heaps of Bimmers use that sort of antenna.
A quick hunt on Ebay shows up this product for a fixed (not sharkfin) antenna which is similar to the sort of thing I had on my old 3ck: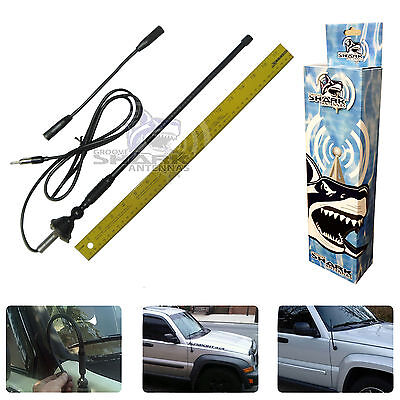 All of our antennas are precisely engineered to maximize signal strength for its size. However, physics is still in play here. There is a balance between look and functionality, but our antennas will have the strongest signal available for any antenna on the market for its size.