Discussion Starter
·
#1
·
For several years I've intended to try a little distributor hybridization, and, well, I finally got around to it.
The origin here is that the electrical connector on Turbo! distributors is always breaking. It's a terrible design. It's been historically difficult to find replacements for Saab (and for Volvo), but oddly not for VW. Guess there's just more of them. It's a dumb problem, because they all use the same Hall sensor... one of these:
HME301
HKZ101
HKZ101S
HKZ101N
HKZ121
Saab used two connectors - the early oval plug and the later rectangular plug. The cutover is sometime in '88 I think.. I've seen '88s with both. I think Volvo only ever used the oval plug, probably because they switched to a crank-mount sensor for all models? IDK. VW used two connectors as well - originally the oval connector, but later a a different rectangular one... not the same as Saab.
While quite similar, I just learned that there are two distributors as well... the early oval plug fits into a 17mm recess in the distributor body, and the later rectangular plug into a 23mm recess. VW used the same connector for both bodies.
For a while everyone thought the Hall sensors were gone, but you can generally buy one of the above part numbers from electronics suppliers without much effort. Of course, installing them is kinda painful, but it's workable. The issue is the connectors are NLA. For Saab and Volvo. But VW? No problem.
This morning I took a damaged distributor apart. This is an early-style distributor, that had a (broken) oval plug and a 17mm recess.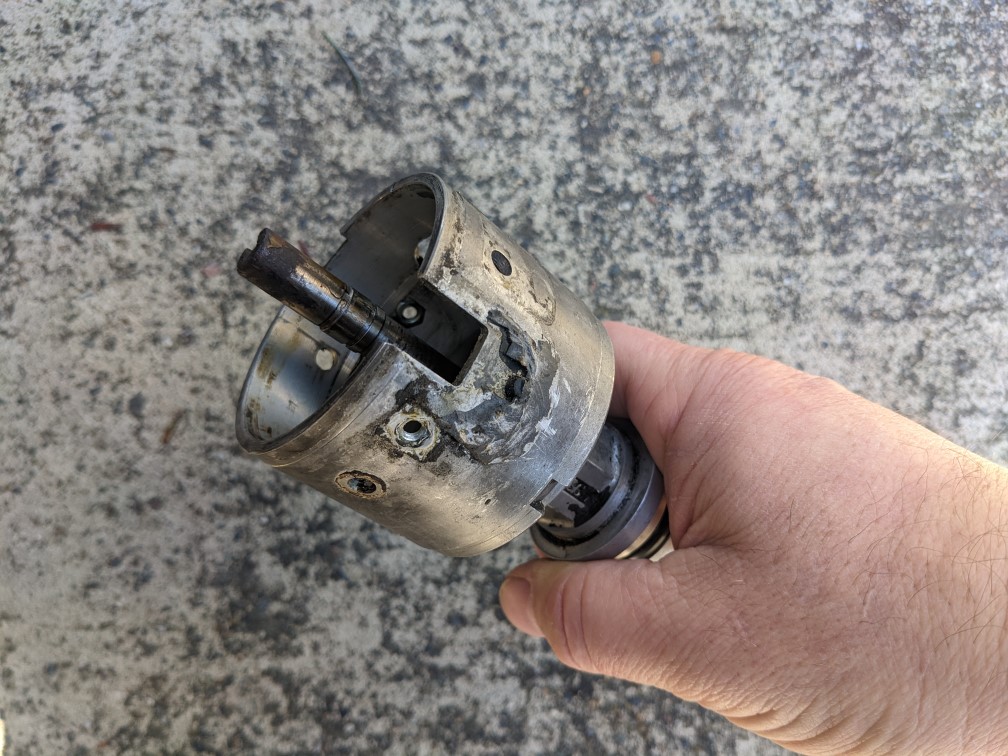 You can see remains of the mountain of epoxy someone tried to use to salvage the connector!
Getting to this stage requires:
1. Remove distributor cap
2. Remove rotor
3. Remove dust shield
4. Remove circlip (1) holding the shutter wheel on
5. Pulling the shutter wheel off (BE CAREFUL)
6. Remove circlip (2)
7. Remove circlip (3)
8. Remove Hall sensor plate (see next photo)
9. Remove screws on the outside holding support plate
10. Remove support plate
Step #5 is the only difficult one!
Here is what the early Saab / oval plug Hall sensor plate looks like, alongside a $20 VW replacement Hall sensor.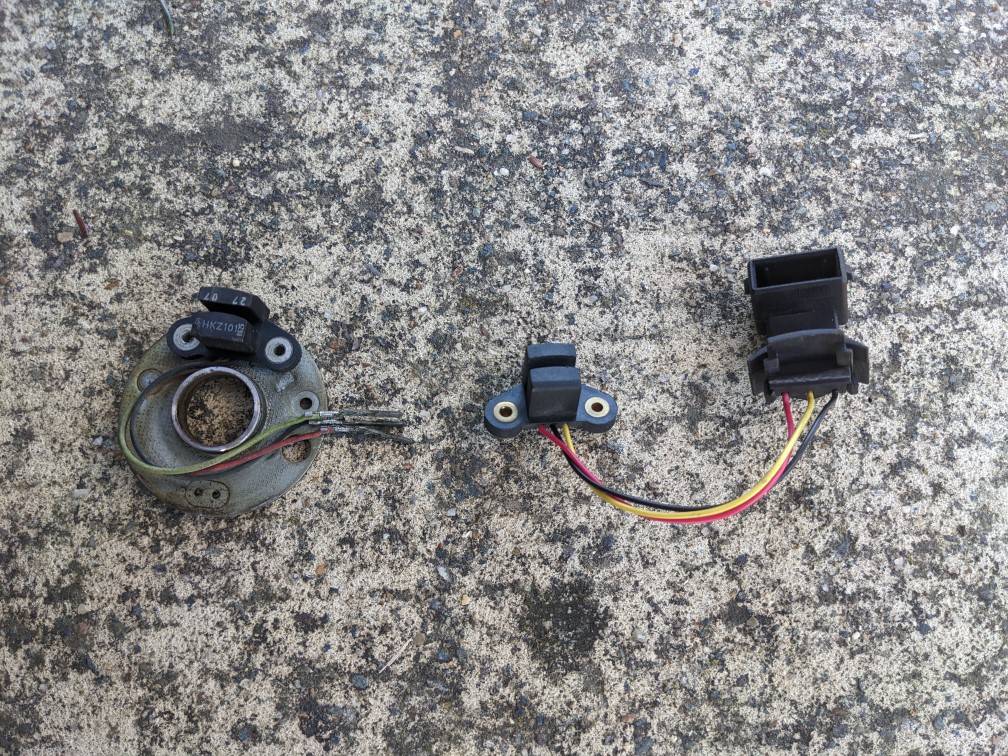 I will need to enlarge the recess on my distributor body from 17mm to 24mm to fit the VW connector body. This isn't really precise work, but obviously I want a nice fit of the new connector. If this was a later distributor with the rectangular plug, I would not need to do this.
I'm gonna work on that shortly and will follow up with some additional pictures.