Discussion Starter
•
#1
•
Door lock malfuctions are common issue with 93ss. The door lock shall loose response to central lock button or remote locking. The lock module is broken.
I bought a SC with such an issue for months. Yesterday, finally I decide to take action to fix it.
After much researching here, I finally got to know the most possible cause is the motor link inside of the lock. It's 2 plugs inserting to 2 hole socket in the motor. Once the plugs or the motor contact are oxidized, connection lost, causing the lock's malfuction. Actually, not just oxidizing, but mainly deformation of the spring copper contacts in the motor. They lost enough contacting strenth to hold the plugs tight. So, you just need to clean the contacts and add more force to make the motor sockets to hold the plugs tighter. Theory is very simple. Precedures are a bit complicated.
Disambling the lock is not so easy. You need to take away the window glass rail stated in WIS. However, some clever brothers here found some tricks to take out the lock from the door handle. This saves lots of time. He hasn't posted any photos yet, but with this hint, I just disamble the door hand first, and managed to get the lock out from that hole with lots of rotations. Wonderful solution!
This is the 2 plugs in the board: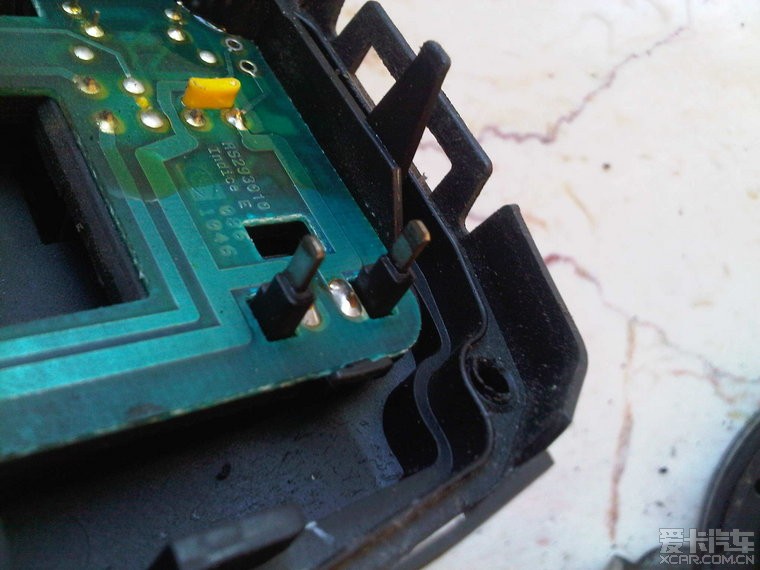 And this is the motor with 2 sockets. There're spring copper piece inside.