Discussion Starter
·
#1
·
Well, yesterday I finally got the '89 Convertible running again! Took a while and a lot of patience, but now the it runs great. Since I've asked a lot of questions on SaabCentral lately, I just wanted to update you all on how it went in the end.
Compressing the new pressure plate to get the spacer tool in was surprisingly easy. I jacked the car up, stuck a roll of duct tape over the "springs," then a block of wood on top of the duct tape, and then slowly lowered the car onto it. The springs compressed and I stuck a length of spark plug wire in the gap. Granted, the spark plug wire was much thicker than necessary, but it worked perfectly and freed up a lot of room during reinstallation.
Next, putting it all in. I decided to follow
Matthew's advice
and strap the friction disc, pressure plate, and slave together so it could be installed as one piece. Sadly, I didn't have long enough zip ties to connect it all together, so here's what I did: I tied the friction disc to the pressure plate with normal string, then I attached the slave to the pressure plate with the zip ties. I put the hunk in place, and there was plenty of working room to get it in. Whew!
Next, I discarded those annoying allen slave bolts in favor of some new hex ones. They were still a little trouble to install, but I just pushed up on the slave's springy rubber cover to make way for the length of the bolts. Then I attached the brake line and then torqued the slave bolts. Strangely enough, my new slave from
TheSaabSite
didn't come with a bleeder nipple, so I just used the old one.
After that I had to get the spark plug wire "spacer tool" out.
Dr. Rock's 3 bolt method
worked perfectly for this. I had
no trouble
pulling out the spacer. Finally I cut the strings and zip ties off and bolted the pressure plate on. Time to bleed this baby!
Bleeding the clutch was, as I'm sure you all know, a massive pain. I didn't have a pressure bleeder, and being 12 at night I just wanted to bleed it so I could test drive it before bed. :cheesy: I took a Tums cap that fit tightly over the brake fluid reservoir and stuck a tire pump through it. Initially it worked, but the seal wasn't good enough, and air just kept getting sucked into the system. I decided to hit the sack before I went through all the brake fluid, or worse: destroyed something. :lol:
In the morning, Dad came up with an ingenious idea. From my old soccer days I had this small, rubber training ball. It's about six inches wide and inflates just like any soccer ball or basketball. Dad had the idea to fill it up with air and stick a needle (JUST the needle, nothing else) into the filler hole. Doing this opens the filler hole and lets air escape. But before the air escapes, you quickly flip the ball upside down and stick it on top of the brake fluid reservoir, effectively pressurizing the system. Once pressurized, you open the bleeder on your slave and the fluid/air comes spurting out! We did have to fill the ball up a few times, but eventually we got excellent pedal pressure.
Here are some pictures of this soccer training ball: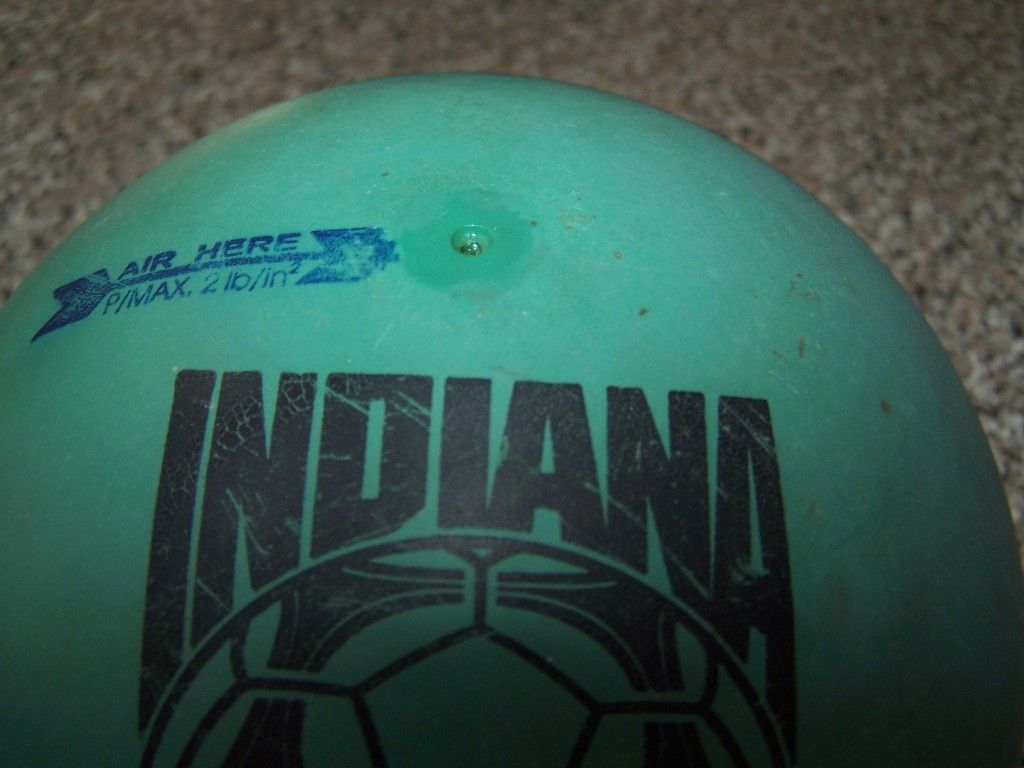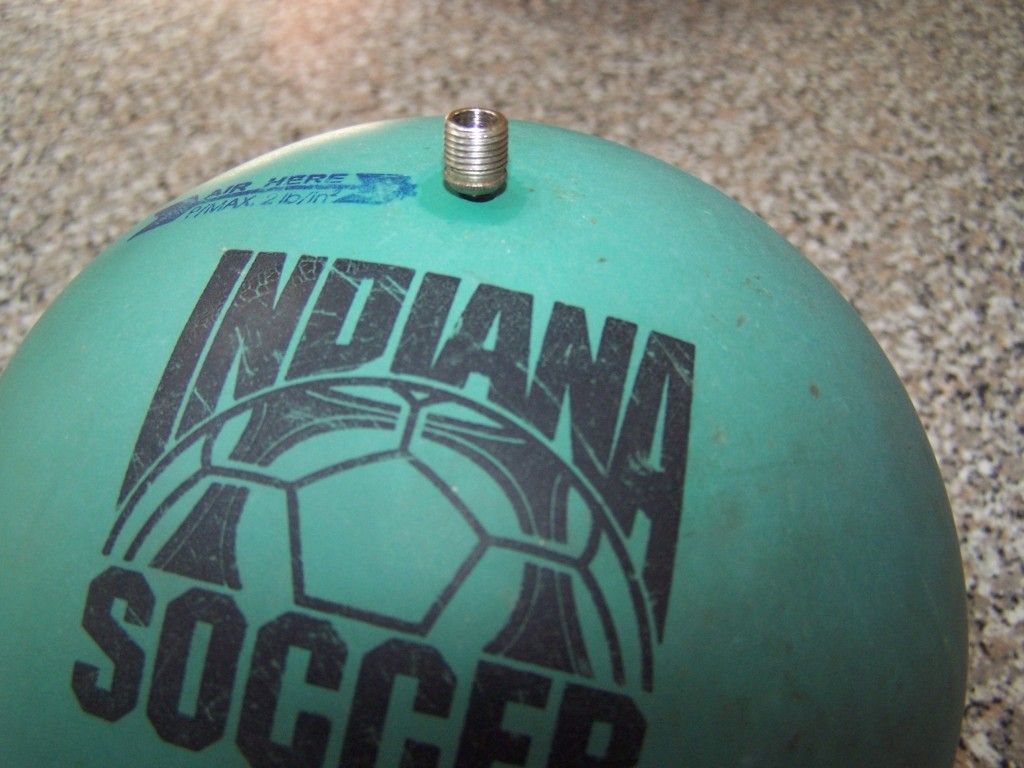 Other obstacles included replacing the driver's side radiator fan and, of course, the spawn-of-Satan clutch cover. But after those, the ductwork went in smoothly. Now, the '89 Conv runs great, or at least as good as it did before it's clutch issues! :roll: Thanks to everyone on SaabCentral who helped me with my first successful clutch job! ;ol;
Links to my other clutch-related threads:
Clutch Job - Trouble removing input shaft
Removing Allen Bolts from Clutch Slave
Should I get my flywheel resurfaced?