Back in 2009 my beautiful, 60,000-mile '90 SPG was destroyed by a guy who didn't know how to drive. I was pretty sure I was going to wrap up my involvement with c900s, but about a year later I found an '85 "SPG" that was not running, but had been well loved and was in pretty good shape. SPG is in quotes because I don't think it was an SPG - it has SPG panels on it, but all sorts of other stuff leads me to believe it was a modified 900T. DOESN'T MATTER.
When I got the car, it had a big ol' turbo (I think a T3/T4 hybrid), Brad's (KC Saabs) adjustable springs, Bilsteins, some nice light Rota Grids, Jak Stoll's FMIC, and a 2.1l head. Definitely a nice starting place.
But, it had a bum clutch, a janky exhaust, typical '85 wiring issues, and
either
a bad engine harness repair or a bad engine harness tuck. Still not sure.
I installed a 9000 clutch, swapped the axles/brakes over to the '88+ style using parts from my '90 SPG, 9000 front calipers, a set of 17x7 somewhat light (20lbs) wheels with sticky tires, adjustable rear trailing links & panhard rod, added the matching 2.1l intake manifold, swapped it over to LH 2.4, and... something else I'm forgetting.
Six years have passed, and though it only sees about 2,000 miles a year it's still aging. Although mechanically sound, it's definitely starting to show its age. Not sure exactly what I'm going to do about that, but I'm starting with a T5 conversion until I figure it out.
I've already spoken with the local smog referee and outlined my plans - I'm going to do an "engine swap" from a 1994 NG900 - "engine swap" is the technical term here, it's just T5 on a B202 and some winks. It'll be fine.
1994 is the donor year since it's pre-OBDII which gives a lot of leeway for installation - I don't have to worry about using the c900 intake manifold, I can keep the FMIC, I can keep the K&N filter (not a word!), and I can keep the single O2 sensor & stock cat location. Going '96+, OBDII, means
none
of that is possible. 1994 was also a crossover year, with the c900 convertible still in production so keeping the c900 exhaust manifold (vs a NG900 one) will be fine - both 2.0l 16vT cars sold in the same year by the same brand and both, sort of, the same model. All good.
A couple weeks ago I bought a '99 9-3 to use as parts. It was a really good deal, but as it turns out Charlotte - that's her name - is a pretty nice car. The problem the owner was fighting with appears to have been a bunch of shot vacuum hoses... so after $25 to autohausaz Charlotte runs great and flew through smog... Not sure I'm going to dismantle her now. She deserves better.
Pick & Pull is doing their half off sale, which IME is unusual - I don't recall them doing such a sale randomly in spring, but since I'm having second thoughts about parting out Charlotte I took advantage. I snagged a direct ignition cassette, a pair of MAP sensors, and a pair of Trionic 5 ECMs to play with. Unfortunately, I forgot to grab the boost control solenoids, and talked myself out of a set of injectors but am now wishing I'd grabbed some. Maybe this weekend.
I'm going to pick up the eeuroparts flywheel kit and probably laze out and get their wiring harness as well. It's a good price and it'll save me a bunch of time. Since the '85 is already LH 2.4 I think I have everything in place for a quick swap.
To make matters more complex (what's the fun in easy?) I am also going to try and build out a custom gauge cluster. The LH 2.4 speedo I'm using has a broken odometer and is the wrong mileage. I could probably fix it, but meh... Let's go for broke
. I ordered a replacement speedo and tach from Speedhut: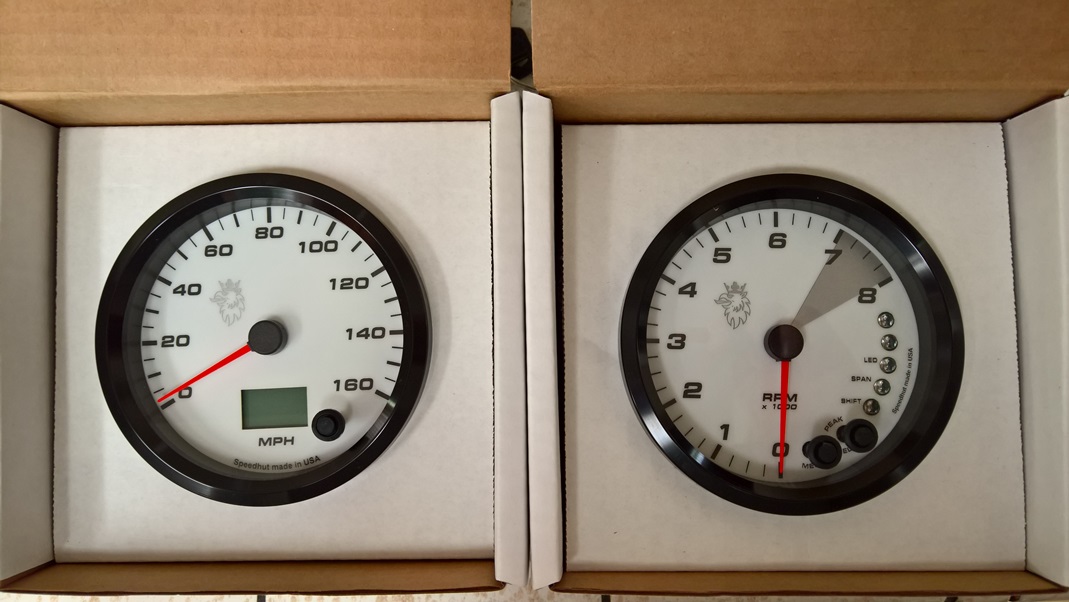 Obviously
T5 will be programmed for a 7k redline.
The gauges go black at night... should be rad.
To make this happen, I'm going to use the speed sensor from a Saab 9000 - I believe it outputs 4x the pulse rate that Trionic (and LH) expects, so I'll use a Dakota Digital speedometer signal converter to fix that.
http://www.dakotadigital.com/index.cfm/page/ptype=product/product_id=126/prd126.htm
I don't yet know how I'm going to address temp and fuel gauges - boost is already handled with an Autometer gauge, so not a challenge. To give myself flexibility in this I swapped fuel tanks to a '90+ type a few months ago and installed a fuel pump "module" from a 9-5 with integrated level sender... the old-style c900 senders are hard to find and used ones are unreliable, so I'd like a better long term solution. Oh, I swapped the 9-5 pump insert with a Walbro 255lph pump...
That was a hassle, but I should have PLENTY of fuel to decimate the transmission if I decide I want to.
Which I
do not.
I'm aiming for a reliable, drivable 220-240hp and a fun road car. I'll leave the transmission destruction up to the XR4Ti, where I can get $40 T5s and swap them in an afternoon.
So, aside from parts collecting my next step is to verify the 9000 VSS and Dakota adapter does what it's supposed to. Hopefully this weekend I'm going to hook up an oscilloscope to the current/factory speedo and collect some data so I can be sure I get the same signal out of the Dakota adapter. I don't know what I'm doing with an oscilloscope, but how hard can it be?
Then, I suppose I need to place an eeuroparts order.
Edit: Whoops, forgot: The SeudoPG came with no power steering. There's a power rack and a pump, but no belt and no fluid. It's not any sort of problem above 5mph - the aftermarket wheels reduced the scrub radius sufficiently that steering effort is totally fine. But, I'm casually working on an EHPS install. The obvious answer is a SW20/SW30 MR2 swap, but I hate buying obsolete parts if there's an alternative. The modern TRW pump (used in a lot of cars, like Volvo) seems the obvious answer, but it's controlled with PWM through CAN speed signals. I have
no idea
what I'm doing, but I'm hoping I might be able to get T5 to do that somehow. Gonna need someone who knows a lot more about T5 and CAN than I do to make that happen, so for the time being I'm staying without power assist.