What do you think of my blue instrument cluster?
I will provide details if you people like it =)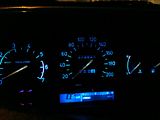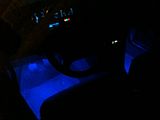 The first thing you do it to take off the top of the whole dashboard. Take off the speaker covers first and then unscrew 2 torx screws on each side along with a 8mm bolt on each side. Take the top off and then unscrew the 2 torx needed to take out the instrument cluster.
Next you have to unplug all the wiring to the instrument cluster. From there you can unscrew the bulb sockets and replace the bulbs. Simple as that.
To replace the washingfluid bulb along with the battery light and abs and such, you need to unscrew two phillips screws and take the whole printcard out.
To replace the bulbs in the info display you have to cut out the previous bulb and then solder in the new LED bulb. Not difficult at all.
So to where I got these bulbs. I got them from
superbrightleds
You will need about 6 "WLED-xHP" and 6-10 "24-xHP"
REMEMBER THAT THESE BULBS ARE POLARIZED! If they dont light up, dont panic! Just unscrew and turn the socket 180 degrees and insert it again. And dont leave the rheostat without resistance. Always plug in all the cables before testing.
Here is the back of the instrument cluster. The 6 black circles are bulb sockets. 4 of these are for the lightning of the gauges. The upper 2 are for the turn signal.
The three types of sockets you will meet. The middle one is soldered into the socket.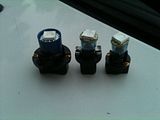 Here you see the panel where the door indicators are. It is the same bulbs on the opposite side of the cluster where the warning bulbs are (low washerfluid, anti lock, battery etc).
The clock with LEDs installed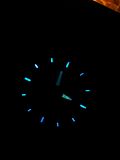 I also soldered some LEDs into a few of the switches too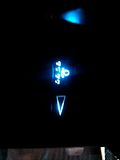 And finally the new bulbs I fitted tonight