Discussion Starter
•
#1
•
2004 9-3 needs a battery. Has anyone tried an AGM battery?
Quality lead acid batteries have jumped in price due to tarriff wars. Canadian Tire has Eliminator AGM batteries on sale for $220 after core exchange. Five years free replacement warranty.
Only disadvantages I see when reading up on AGM batteries is that they don't handle overcharging. Does anyone know what the set point of the NG9-3s electrical system is? (My car is parked without a battery in it right now, so no I can't check it for myself.) 14.4V is pretty much the max an AGM battery likes to see, and if it's fully charged it likes to see less.
Doing a search gives lots of contradictory opinions on AGM batteries in general.
Note the five year free replacement warranty. The Canadian Tire person I talked to said that it was basically unconditional. Not that I believe everything (or even most things) they say. The 9-3, being a convertible, may sit for weeks at a time in bad weather. If that kills the battery, I get a new one.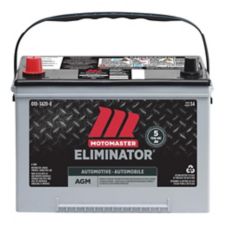 MotoMaster Eliminator Automotive Batteries feature the latest advancement in automotive batteries- AGM (Absorbed Glass Mat) technology | Canadian Tire
www.canadiantire.ca
(My father, in the good ol' days, bought an Eliminator battery back when it was a LIFETIME warranty if installed in the same vehicle. Little did Canadian Tire realize that he was going to drive that 1980 pickup into the 2010s. That learned 'em, and the lifetime warranty is long gone.)