Discussion Starter
•
#1
•
i figure it is about time to post some information about my own rolling project car.
1992 Saab 900 turbo 5 sp.
~290,000 miles on the odometer
~385,000 miles on the block (which i killed when i blew my radiator and overheated badly)
Engine Mods
:
T3/T4 hybrid turbo w/ .63 exhaust housing on a stage 3 compressor wheel and 'new style' trim 50 wheel on the intake side (whatever that means, was something the shop that built the turbo was talking about... new technology as compared to old, supposedly this wheel is nearly equivalent to the old style trim 57 wheel)
K&N open filter
minimally ported throttle body housing
gasket match ported and polished to 100 grit 2.0 intake manifold
Turbo XS 'type H34 racing bypass valve'
Swedish Dynamics APC, EPROM, 'red series' injectors (i believe to be 34lb? correct me if i am wrong)
Summit Racing 'turbo' muffler - it's all about the price ($15) and sound (car alarms chirp at me when idling in parking garages, a blip on the gas gets cars honking)
what else? i am drawing a blank right now, this post will be edited many times i am sure.
Suspension Mods
:
Bilstein HD shocks all around
poly lower front shock bushings
PBR brake pads all around
ball joints, tie rods, control arm bushings replaced ~50,000 miles back
front ARB removed
Saab Savior Rally Skid Plate
Sound System
:
Kenwood head unit (cannot recall exact model... MP6025?? 50watts x 4, 4.0 volt preouts for 2 speaker amps plus sub, MP3 player jack, remote, etc)
Pioneer speakers in 4 stock locations (i could not find Kenwoods for the rear and spilled coffee into one in the front, hence all Pioneers now)
2x 10" Kenwood 'tornado?' subwoofers in dual enclosure box
800watt 2 channel amp mounted to the box
1 farad cap inline to the amp.
fused, of course.
on the TO DO list
:
3" DP (in the garage)
EVO 8 FMIC (in the garage, inlet/outlet need to be cut and rewelded)
900aero APC mod (again, in the garage, just too much in line in front of it)
build myself a fresh motor, over time, to eventually replace the one i am currently working on installing.
full respray in OE color
MegaSquirt (of course!)
front door speakers, maybe tweeters at the corners of the windshield, or in cutouts next to the dash speakers
on the PARTS KILLED list
:
5 transmissions - i nearly cracked the casing in half on the last one
1 turbo - the compressor wheel got shorn off when i sucked a rag into the air box near 5k rpm in second gear, boosting hard)
1 MSD coil - lead wire vibrated loose and caught fire
1 more MSD coil - failed to produce spark over 5psi of boost after 20,000 miles, i am back to using stock coils now
1 frame - i broke the front suspension at the left side upper control arm rear bushing bracket. the bracket is bolted through the frame, both nuts were welded on, prior to me breaking them off and there was a crack running between the two holes in the frame. i got airborne at 120mph in Death Valley, CA with a full load of camping gear and tools/parts for a 2 week road trip. dont do this.
4 or 5 front motor mounts
can i count 3 broken headlights, 4 lost front corner lamps, 2 grillEs and a front bumper here?
here's some inspiration for me to get moving with finishing the body repairs - the hood and hatch both were dented when i bought the car, the left front fender had been pushing in, then an amateur pulled it out, filled with bondo and let it be. all is now fixed and primered. sadly, paint has been moved far down the list of things to do in exchange for things like... getting an engine installed that is not seized.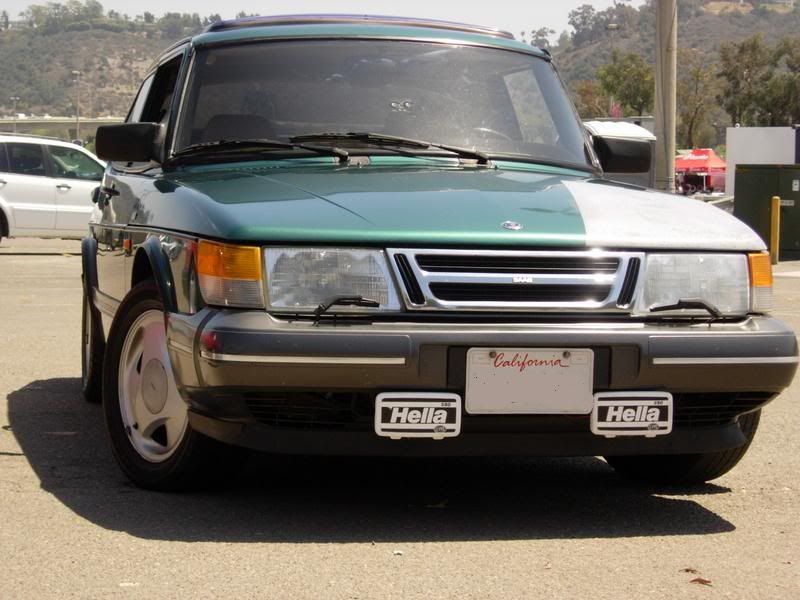 headlight wipers have since been removed
fog lights are not currently mounted (one has broken glass)
wheel center caps have been replaced
driver's side headlight glass has been swapped for one that was much closer to the nearly new pass. side