One day this winter dad went to drive the 89 900 convertible, but when he pressed the clutch pedal it went straight to the floor, lifelessly, without any resistance. After some research my dad bought a new clutch master cylinder, and once I came home from college I installer the little bugger. We jerryrigged an air compressor to pressurize the brake/clutch system to about 20 PSI to bleed the clutch (through the slave cylinder). After that, the clutch was the firmest and strongest I've ever felt a Saab clutch!
I ran a lot of errands that day, lots of town driving, and after a few hours came back home, and the Saab sat in the garage overnight. The next day, dad and I planned on going into town, and wouldn't you know, the clutch pedal goes STRAIGHT to the floor. I also noticed a large, suspicious puddle underneath the front end: brake fluid. The reservoir was also just below minimum!
Dumbfounded, we pressure bled the system again and restored the clutch to its rightful stiffness! We test drove the car and it was just fine. After that, the car sat for another full day, and this morning I looked underneath the car and sure enough, a puddle is forming. The pedal was still responsive, albeit a little less than before if I'm not going crazy. The reservoir was also slightly lower than before.
One important thing I realized afterwards: when we topped off the reservoir after bleeding, we used DOT3, not DOT4 which in the system. AND this DOT3 has been sitting around for a while, unsealed for a few months. Also, the reservoir and master cylinder area is really wet in general! The brake MC is all moist and shiny, and the clutch MC supply tube is all wet where it enters the reservoir.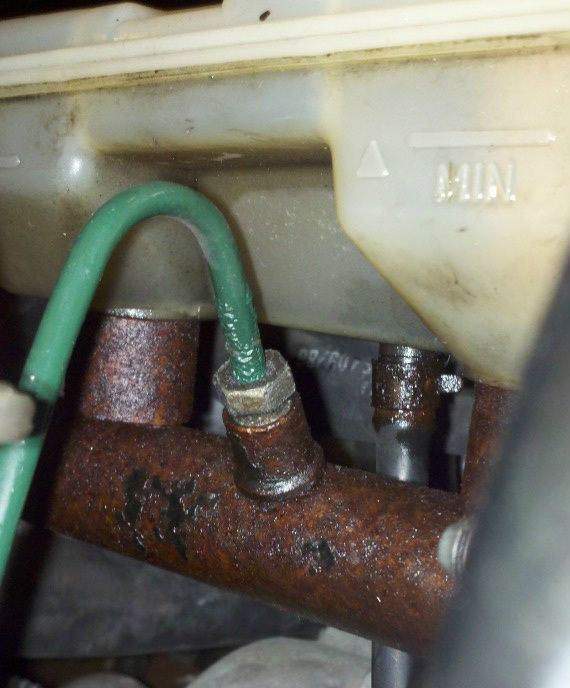 So, does this mean that the original problem wasn't fixed by the master cylinder change? Or did I mess up when I was replacing it, causing a new problem? Thanks all!