Well, the car continued to set a P0410 code and I ordered check valves and gaskets. The pump was still running then (June). What I should have done was unplug the pump as well since it does not affect performance. The check valves arrived today and I started pulling the car apart. I went after the valve on the firewall side of the engine first since I had good access across the right fender The best method seemed to be to use a 3/8 drive ratchet wtih a 10 mm on a 3 inch extension (can't find my 10mm in 1/4 drive). You snake the assembled ratchet under the valve and guide it with the other hand. There is only enough space for about 1 click per stroke. Once the bolt is loose, then you can work it out be hand. A magnetic probe is useful just in case it drops. I think that with an assistant, you could do the same with longer extensions fro under the car.
The next problem was getting the valve off the hose. On the V-6, the hoses are SHORT. The o-rings were also stuck after 113K miles. I finally figured out where the plastic rings were engaged and used pump pliers (overkill) to squeeze the rings. After a little twisting, the valve finally came off. It was all black inside.
To install the new valve,
I used some dielectric grease on the inside of the hose mating surface. I little grease on the gasket helped to hold it in place as I maneuvered the new valve back in place. Reinserting the bolts was tricky, but is best done by hand with final tightening with the ratchet. The new valve looks great.
Next I tackled the other valve in the front of the car (driver's side). The access is a little better but you have to pull the battery and battery tray to get your hands and tools in. Again, it might be better from under the car with an assistant guiding tools. This one came out more easily and was as bad inside. Reassembly entailed the same process as the other valve near the firewall.
I pulled the SAI pump next and it is not pretty.
It's shot like the one in the BMillar thread.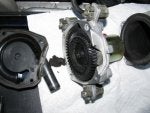 I may try breaking teeth to balance it, but without the filter, it's not something I really want to use. If I can't find one used, I'll order it from the same place I got the check valves (Saab Parts on Line). The blob between the cover and impeller is what is left of the filter and some teeth. The pump is mounted with 10 mm long bolts and the cover is held in place with TORX screws.
I am planning to pull the neutral safety switch this weekend and clean/rebuild it. Will post something on that when I get done with it.