In an effort to help, went through a ton of schematics last night looking for any clue as to what that connects to.
Because the model year hasn't been mentioned
, I took a guess and concentrated on the 94-98 series.
I checked the dwgs for virtually every electrical system in the vehicle. And I can tell you with a fairly high degree of confidence that - at least on the later models - there is no 2 pin connector with a red/white and black pair passing through it. That means anywhere in the vehicle.
I never noticed it before but, there are actually very few 2 pin connectors used throughout the entire vehicle. As an example, there are only 62 of those H2 connectors listed below.
And, about 90% of the H-2's are involved with interior stuff (speakers, courtesy lighting, door locks, power windows, etc) - so there are not that many to check really.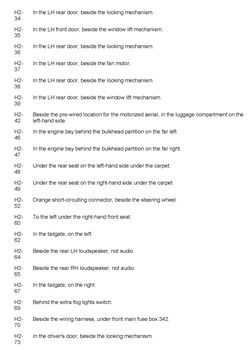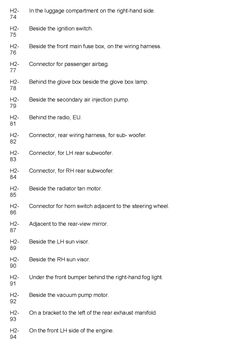 But some of those are specific to that vehicle (a 96 CSE - with a turbocharged 2.3, Trionic 5 engine management, Mark IV ABS, non-TCS, etc).
So, without knowing the year of the car...I was losing interest. Then, when I saw this - I just about gave up:
The fuel has sit in the car since May 2015 if that helps.
Can old fuel lead to the car using so much fuel?
I apologize if I'm reading that wrong, but I have to wonder if that same gas is still in the tank. This isn't an issue because the gas is too old, there's nothing wrong with one year old gas. But rather, it makes me think that the reported 8 mpg consumption rate was determined solely on the basis of the readout provided by the trip computer.
If the same gas is still in use, it would suggest that the tank hasn't been burned down to near empty, topped off (odometer reading noted), burned down to near empty, tank refilled (odometer read again) and then with this data in hand - fuel consumed vs distance traveled - the true rate of consumption can be calculated.
The first step in this diagnostic is to do a physical/mathematical determination of the actual fuel consumption rate - as suggested above.
Doing that procedure may show the consumption rate to truly be that high. On the other hand it may not - it might show normal fuel usage. In that case, it would indicate an error in the rate - as reported by the SCC.
Either way, someone here can help you figure the problem out - if a problem exists.