Quote:
Originally Posted by saabnc
what do you reccomend? a ppc or an ecu?
From the performance standpoint, there's no difference whatsoever, as both would carry the same software.
If you order an ECU, you get a complete replacement for your car's original ECU. It will be pre-programmed for your car, containing the new software. You'll have to arm yourself with a Philips screwdriver and a 10 mm socket wrench, pull the old ECU out and bolt the new one on. Usually, if everything goes OK, you mail the original unit back, but you can also keep it (after paying the core charge), in case you'd ever want to restore the car to the original settings. The ECU itself is a heavy weather proof metal case, size of a good book, with a circuit board inside.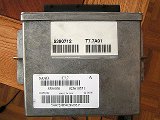 If you order a PPC, you get a small device designed to update the software in the ECU that's already in your car. You won't have do disassemble or unbolt anything, just connect the device to the OBD-II port under your steering wheel, press a button, wait 20 minutes and enjoy the newfound power. PPC allows you to go back to the original settings or tune the car again anytime you want -- it just changes the software in the ECU. If you ever decide to tune your car further and install more capable hardware, you can pay a reasonably small fee and receive a new version of software for your PPC, which would match your upgraded engine better. PPC is slightly bigger than an audio cassette case: