No cable, just a close-coupled gear driven sensor. It's a magnetic pick-up unit that screws onto the transmission with a short pigtail that connects to the harness: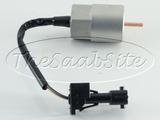 Check for good electrical connection.
Unscrew the coupler and check the geardrive for mesh - the driven gear is nylon and can get stripped. Insert a small screwdriver into the square output hole, twist back and forth. There should be only a limited degree of rotation. If it spins freely, the gear is stripped.
See the middle assembly: