Many know I promote the skin swap, especially if you have a MY91 or later 900. I would recommend taking the entire front seat from the 9000 because, the seats are bigger than the 900, and have more comfort options like:
Back Lumbar
Front thigh Lumbar (or whatever its title)
In Florida the skins have been in fair to exceptional condition on most 9000 I come across in the local pull n pay.
Many have seen me post where I installed the front seats from a MY95 9000 into MY92 900 last week with suede carpet.
This weekend I am doing the rear bench and then prepping the rear backrest.
I pulled the velour fabric off the back bench and exposed the springs.
Here are the tools for the job:
Heavy duty wires cutters = $20 Home Depot (could probably get some cheaper but I liked this paticular one as it does about 5 other things).
Staple Gun = hand held is plenty (i am using 1/2 staples becasue thats whats in the garage)
Hand Saw = $8.00 Home Depot
I made this job harder than what it was suppose to be. I mis-judged the size of the 900 bench. I thought it is smaller than the 9000 seperate seats and I was wrong.
The 9000 had a 3rd person cushion and I cut it off long ago
. So I had to modify the bench to fit the 9000 skins properly.
I simply cut the springs down to match the missing section. The MY95 9000 has seperate rear seats; therefore the cushions fit either side the springs I left in place. BUT THE REAR SKINS NEED TO BE SEWN TOGETHER (more on that below).
So in Theory, the 9000 rear seats, in its dimensions will fit a 900 rear hatch bench. Had I not cut the mid section from the 9000 cushion (see cut foam in the piccy below), it would have been plug and play:
(9000 cushions left/right sides, dry fitted to the 900 rear bench)
Now you have to sew the rear skins together.
The 9000 rear passenger side (LHD) and mid-section are 1 seat. The driver rear is seperate.
I have a fabulous seamstress up the road that works from her home.
$20: for stiching: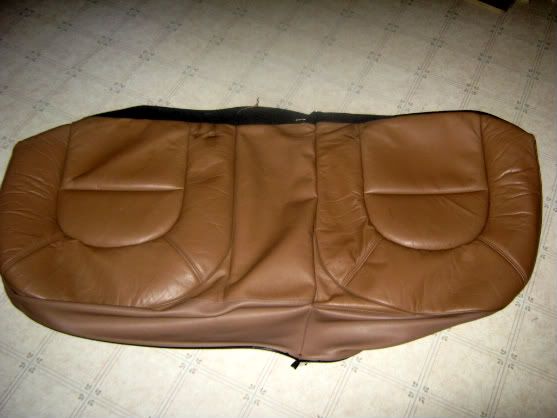 here is a section of the seat rest that was stitched. Professional job:
This is the rear side. The skins were stitched together and then enforced with the with white fabric you see running down the entire stitch, back to front. In many sections she added that brown fabric you see as well. Not sure why but she says, "20 more years useage Mr. Mike, 20 more years", that was good enough for me!
(as you can see, cushion on rear side of 9000 leather still looks new).
I am off to prepare the spring section with cushion. more pics soon.
Cheers,